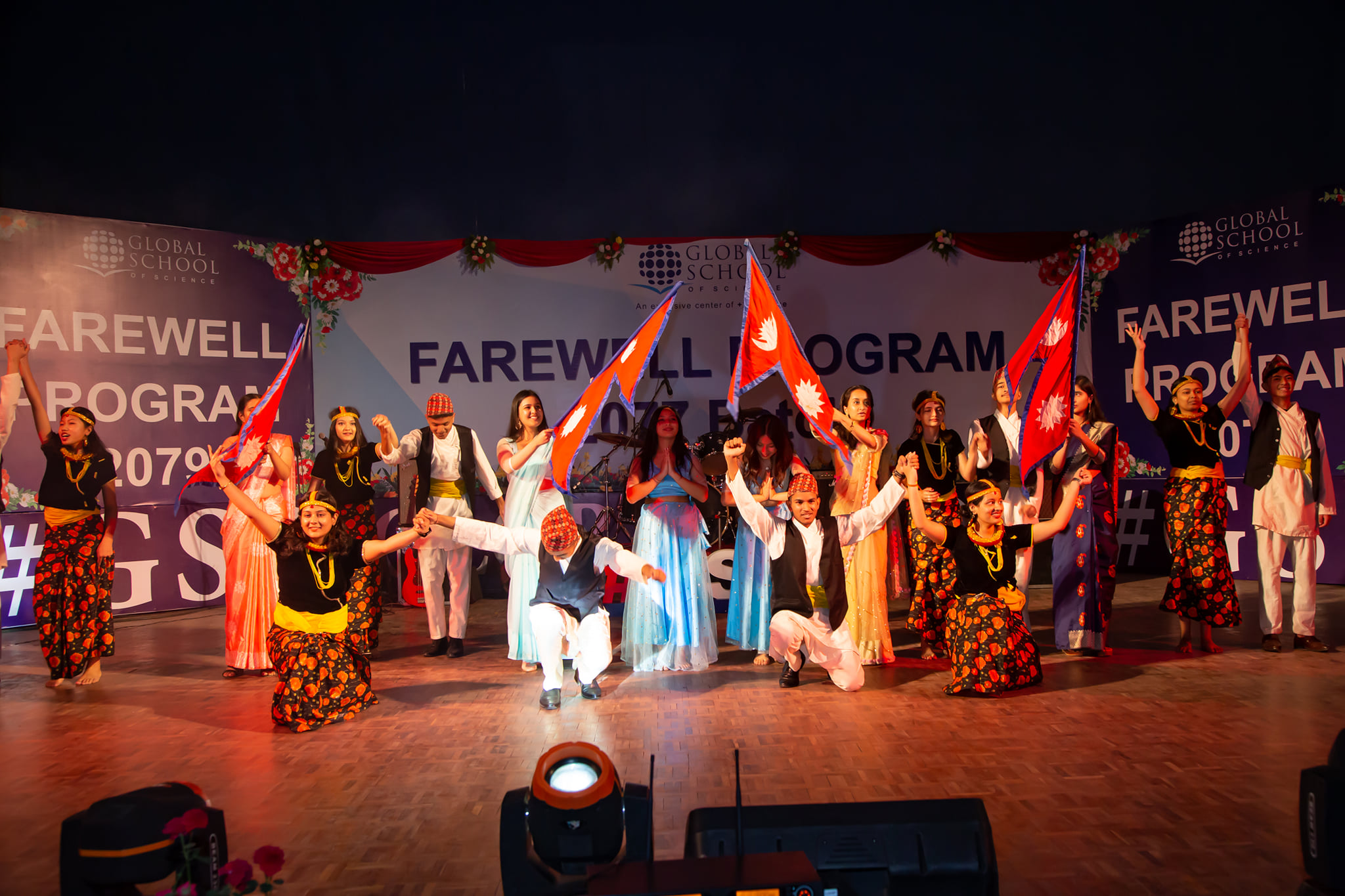 Global School of Science organized a farewell program to bid good bye to its 2nd batch students who are graduating in 2079. Attended by the College Board members, principal, program director, HODs, staff, faculty and new and graduating batches of students, the inaugural session of the farewell-well program was chaired by former governor Dr. Tilak Rawal who is the chairman of the college and Prof. Dr. Udaya Raj Khanal, a cosmology scientists, showed his gracious presence as the chief guest. As an annual signature event, the farewell program blended formal, informal and recreational fleets of performances all dedicated by the students in groups and individually.
The commencement segment of the program consisted of reception of the guest dignitaries, formal seat taking, and inauguration by lighting the lamp by the chief guest and people on dice. Inauguration was also tinged with national anthem, welcome dance performed by a team of new students, and followed by welcome speech delivered by a student representing the new batch-2078 and farewell speech from a graduating batch-2077 of the GSS. Part of formality consisted of felicitation to the faculty members selected for their teaching excellence and the students for their achievements in NEB exams and also success in the IOE/IOM entrances who were successful to study under the full-scholarship entitlement.
7 faculty members Mr. Khem Raj Deuja, from the Department of Physics , Mr. Jay Prakash Poudel from the Department of Chemistry, Ms. Swastika Shrestha from the Department of Chemistry for Excellent Teaching Award 2020 and 2021 , Mr. Som Prasad Poudyal from the Department of Biology and Mr. Omkar Joshi from the Department of Physic for Excellent Teaching Award 2021 similarly, Mr. Rojan Tapol from the Department of Biology and Mr. Roshan Dangi from the Department of Computer Science for Excellent Teaching Award 2020 and 4 students Mr. Lishan Dahak (30th Rank holder in IOE), Mr. Nikhil Gain (46th Rank holder in IOE), Mr. Shreyam Dhakal (64th Rank holder in IOE) and Ms. Simaran Udash 1st batch topper of Global School of Science were honored along with their parents with Awards, Khada and Cash Prizes for their outstanding performance and titles handed over jointly by the chief guest Prof. Khanal, chairman Dr. Rawal, and Board Members technically facilitated by Amba Datt Joshi, principal, Dr. Dev Raj Paneru, academic director and Gokul Badu, program director. Chief Guest of the program Prof. Dr. Udaya Raj Khanal gave insights on what next after graduating the secondary school education in Science, also highlighted the benefits of its study for new inventions which should be made in response to and also for the communities of Scientists to combat against the hazards such as COVID-pandemics and also other similar natural disasters and future challenges.
The program was auditioned by approximately 1200 people that included the new and graduating students, faculty and guest dignitaries, and media personnel invited to take pleasure of stage performances contributed from the level of students.
Details
Date:
Wednesday, April 20, 2022
Time:
7:00 AM
Venue
Rastriya Pragya Pratisthan Kamaladi