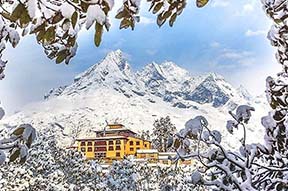 By Anuj Shrestha XII G
| +2 Science
Elias is a businessman who lives in Helsinki capital of Finland. He is very hardworking person and continuously works to get success in business. Moreover working all the time he goes for hiking and climbing peaks along with his friends during holidays. One day Elias called his 4 friends, with whom he goes for climbing peaks every time for a dinner in his house. First Viano arrived in his house, both of them were very happy as they had met each other after a lengthy break. As soon as they sat on the sofa they heard the sound of Sofia calling Elias. Viano went down to open the entrance for Sofia. They started to gossip with each other as Aada and Leo hadn't reached yet. After waiting for almost half an hour a car entered the house and Viano said finally they have arrived. Elias requested Sofia to open the door and Elias went to check whether the dinner was set or not.
There was a smile on everyone's expression as it had been months that they haven't meet with each other. Sofia recommended lets have the dinner or else we will be talking whole night. They all went towards the dining table and started to eat the dinner. After a minute Elias asked everyone to listen him carefully, I haven't called you guys just to have dinner but I have called all of you to discuss about our next trip. "Wow that's sounds exciting, it means that you have already decided our destination" said Leo. Yes you are right; I have decided the place.
Aada asked is it a hiking? It is not a hiking my friend it's a mountain climbing. It is not a new thing we have been climbing mountains for years said Viano. This time it is Dissolution of amity going to be very adventurous as we are going to climb the world's tallest mountain. Everyone got dazed after hearing the tallest mountain. "You must be joking Elias" said Leo. "No its not I was thinking about it for a long time and I think this is the perfect time to do this" said Elias. "I think it will be quite interesting but it is very challenging too" said Aada. Sofia said, "Yes it is quite challenging but we have already scaled various mountains so I think it won't be tough. "Ok then it is final that we will be going to Nepal to climb the Mt. Everest" said Elias. Everyone finished their dinner and started the discussion again. "So what's the plan, when are we going Nepal?" questioned Aada. Elias responded, "I haven't decided the date yet." "That's not a big deal we shall again met on the weekend and discuss about the excursion" said Sofia. "That sounds fantastic and I think we should leave now" said Viano. Everyone left Elias's house with a smile in their faces.
On the weekend all 5 of them meet on a café to discuss about their excursion. Without wasting time Elias turned on his laptop saying that I'm going to book the tickets. Others were having tea and talking with each other. Elias said, "There is a flight on 2nd of July i.e. is after 15 days." "It is perfect we can complete our pending work too" said Sofia. They discussed everything about the gears required and the accessories too.
Everyone went to their work after the conversation was over and they were even more excited.
After a wait of long 15 days they meet at the airport and they were very happy to go for a trip after a long time. After almost 8 hour their flight they landed on Kathmandu. Viano asked Elias, "Where are we going now?" Elias said "I have already booked rooms in Radisson hotel we need to hire a taxi and go to the hotel." On reaching hotel Elias brought the room keys and said, "All of you seem to look tired and it's already 11 pm you may go to your room and order the dinner and get some rest, we will be leaving for Solukhumbu at sharp 8'o clock". Everyone went to their rooms and in the next morning everyone gathered in the restaurant of Radisson. Aada asked, "How are we going Solukhumbu Elias?" Viano responded, "We are going in motorbike." Seriously it's very far from Kathmandu I had searched in goggle last night it's approximately 126 km" said Aada. Elias said, "He is just kidding I have already planned about it wait for some time." "Now the breakfast is done and it's about to be 8 will you tell us how are we going Elias?" asked Leo. Pointing towards the back Elias said there is a Hiace parked beside the restaurant that's our vehicle. Viano said this tour is going to be remarkable, we can enjoy the lovely scenery of Nepal and reach our destination comfortably. All of them went inside the Hiace and their trip to Solukhumbu started.
All of them were enjoying the chill weather and the lovely scenery and unexpectedly the Hiace stopped.
Elias asked the driver, "Why did you stop the vehicle?" Driver responded, "Sir I have stopped the vehicle for you guys to enjoy the atmosphere outside." But he didn't told them the actual problem that there is some problem in engine. Viano "Said we have been in this Hiace for a long time we will be relaxed if we go out." Everyone went out of the Hiace and enjoyed the atmosphere and the driver started to repair the engine. After half an hour the driver repaired the engine and called everyone to continue their trip. After a long ride they finally arrived Solukhumbu late-night. It was very cold outside and Elias told the driver, "To take the Hiace straight to the guesthouse they have booked." They were very tired and feeling sleepy when they reached the guesthouse. Elias said, "You all seem to be drowsy, let's have the dinner first and we shall go to our rooms to take a nap." Next day Elias called everyone to his room and said today we shall visit the local areas to discover the traditions and culture of Solukhumbu, next day we shall be going to Everest base camp. Everyone was very excited to explore the place. After having lunch they went for a walk towards the marketplace. After walking for the whole day they came back to the guesthouse where they had stayed the last night. They left the guesthouse early morning and started to trek toward the base camp Everest. After a long walk they finally reached the base camp of Everest, they paid $100,000 as a fee of climbing the Everest they had also hired the Sherpa guides who would help them to climb the Everest.
The guides recommended them that the sun is going to set, why don't we start the journey from tomorrow. Sofia said, "I think he is right it is not good to travel at night, let's eat something I'm starving." "I'm also very hungry, let's have something" said Aada. Leo said, "You guys enjoy eating we shall have a walk." The next morning they started to climb the Mt. Everest with all the essential equipment. They had to pass through Khumbu icefall which is tremendously hazardous. Their guide taught them how to traverse this area with the aid of ropes and ladders. Everyone crossed the area with lots of complications. Sofia said, "The challenges have already started and we haven't even reached the 1st camp." One of the guides said, "This is just beginning there are more adventures to come." They continued their journey chatting with each other. After climbing for a long time guide said, "We have reached camp I at (6065m) you can have some foodstuff and take some rest." There were other tourists too who had come to climb the highest point of the world. After having food and taking some rest they again continued their journey. The Sherpa guide said, "To reach camp II i.e. (6492m) we need to climb through glacial valley known as the Western Cwm. Elias asked, "Is there any challenge in the valley?" The guide replied, "Surprisingly, the main challenge in the Western Cwm is heat. The valley's structure means there is little wind and the intense sunlight at such a high altitude can make it uncomfortably hot."
Aada said, "I can't have faith in this, even at this high altitude the temperature is high." Viano said, "This is the reason that Nepal is such a unique country even though its territory is less." They were taking some rest time by time and having some talks with the guides. Sherpa guide said, "The next challenge is climbing Lhotse Face via fixed ropes to get across a sheer wall of ice and ascend to Camp III at (7470m)" Another guide said, "You may have struggle while doing this so look carefully how it's done." First the guide demonstrated how it's done. Aada went first and said, "It's quite tough but I'm enjoying a lot. One by one everyone climbed the wall of ice. Sofia said. "I'm enjoying a lot climbing, thank you Elias for bringing us here." Elias said, "You are welcome Sofia but you will enjoy even more when we reach at the topmost of the mountain." Sherpa said, "Now we must use ropes to get across the Geneva Spur to reach Camp IV. Everyone set their ropes and with the support of ropes they crossed the Geneva Spur and walked toward Camp IV. As it was getting darker they stayed in their camp after having dinner they went to sleep. The next morning they advanced to The Cornice Traverse, a horizontal face of snow and rock that must be climbed, and finally onto The Hillary Step which is climbed with fixed ropes, so that only one climber can ascend or descend at a time. At this point, the deficiency of oxygen and cold dulls climber's reflexes and judgment, making the Hillary Step one of the most challenging elements of the climb.
When Elias was climbing surprisingly the mountain started to shake the guide asked Elias to come down and said, "It's an earthquake and it's too risky to climb, we are not safe here we need to move backward and find some safe place to stay." Everyone was frightened and they didn't know what would happen next. Leo screamed and said, "Look upward an avalanche is coming toward us." The guide advised to run as fast else we all shall get buried by the avalanche. But it was too late and the avalanche was very nearby to them, all of them got buried in the avalanche. A rescue team was sent to rescue all the climbers who were in trouble. But the weather wasn't in their favor; there was a snowstorm which created complications for the rescue teams. The storm stopped after almost 20 hrs. All the climbers were buried by the avalanche, but Aada was able to make her safe behind a big stone and she didn't get buried deep below the snow but she was unconscious. After about 24 hours she got her conscious back, but she could not understand what was happening. She started to search her friends and the guides but she couldn't find anyone. After searching for a long time she heard the sound of helicopter and started to raise her arms so that they could see her without difficulty. The rescue team asked her to sit in the chopper and take rest but she rebuffed and told them, "I will not take rest until I rescue my friends." She assisted the recue team to search the climbers. After searching for 2 hours they found some guides and tourists but none of them were her friends.
The weather started to get poorer and they had no other option from returning back to the base. Aada was also bruised and tired and she was requested to take some rest but she couldn't sleep as she was concerned about her friends. The next day she woke up early and ran towards the rescue crew camp. She asked, "When are you going to rescue the victims of avalanche?" They replied, "We have already sent a team for rescue." She said, "I also want to go to rescue them as my friends are also buried under the snow." They replied, "Ma'am it's too risky and you are also incapacitated we can't let you go it's against our policy and we can't send any tourist for rescue." Aada said, "But please make sure that you will rescue all the climbers as well as my friends." After searching for 2 days they brought all the climbers to the base camp but most of them were lifeless and few were incapacitated. Unfortunately all 4 friends of Aada were lifeless. She was so gloomy to see that all of her friends are dead. Aada wasn't happy to return back home unaccompanied but what could she do. She informed about the incident to her friend's family and they were also disheartened to hear the demise of their child. She took the dead bodies of her friends along with her. After arriving Finland she handed the bodies to their family members and they buried the body according to their ritual.